Groundhog Grub
We love Groundhog Day at our house, I think it is because the first thoughts of spring come with Groundhog Day. We love the holiday seasons between October and New Year's Eve, but January is such a cold bleak month, that anything that can get our minds thinking spring is worth celebrating.
Every year we make these Groundhog Day treats to celebrate and it seems to go over well, I took it to our co-op this year and it was thoroughly enjoyed. Of course these could be used for any party, especially one that might be celebrating boys and dirt, but they work well with Groundhog Day because they resemble worms or grubs in dirt.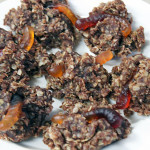 Groundhog Grub
Ingredients
2

cups

sugar

4

Tbsp

cocoa

1

stick

butter

1/2

cup

milk

1

cup

peanut butter

1

Tbsp

vanilla

3

cups

oatmeal

20+

gummy worms
Instructions
In a heavy saucepan bring to a boil ON MEDIUM HEAT sugar, cocoa, butter and, milk. Stir often. Let boil for 60-90 seconds.

Once boiled take off heat and add peanut butter, vanilla and, oatmeal. Stir well.

Drop mixture, by spoonful, on wax paper and push in a gummy worm. Allow to cool.
Recipe Notes
It is important that the instructions are followed. The mixture needs to be brought to a boil for 60-90 seconds or it will not have the right consistency. It will turn out runny and almost glossy. 
I hope you enjoy these Groundhog day treats! If you are looking for some more Groundhog Day things, including our favorite book and some activities, click here.
Bet + Fam 🙂
Please follow and like us: