Can Chocolate Equal Healthy… I hope so!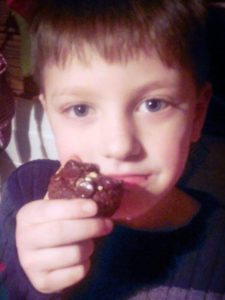 So having kids means having snacks and sometimes it feels you have to choose between healthy and tasty, but here are some yummy oatmeal chocolate muffins that fits the bill for both.
Of course when one says healthy they don't think chocolate and to be honest these aren't in the same league as traditional health foods, but they are a quick, easy and delicious alternative to other, much less healthier options.
You will need…
2 ½ cups old-fashioned oats (1.5 cups ground, 1 cup not ground) *side note here… I bought the wrong oats for this last time and used quick oats… it still worked 🙂
2 large overripe bananas or 1 cup applesauce
2 eggs
1/3 cup real maple syrup (or honey)
3/4 cup milk
2 tsp real vanilla
2 tsp baking powder
1/2 tsp baking soda
½ tsp salt
3  Tbsp dark or dutch process cocoa powder
1 cup chocolate chips (divided into two ½ cup portions)
Optional (oats to sprinkle on tops of muffins and oil spray to spray cupcake liners)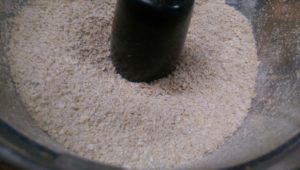 Grind 1.5 cups of oats in a food processor until they are almost flour consistency. Mix the bananas is a mixer until they are almost liquid and then add the other wet ingredients. Add the dry ingredients (except chocolate chips) to the wet ingredients and mix well. Allow to sit for 10 minutes and then stir in half of the chocolate chips.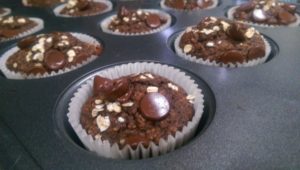 Preheat your oven to 350 and line your cupcake tins with liners (spraying liners is optional). Fill liners about 3/4 way full. Gently top muffins with remaining chips and optional oats before putting in the oven. Bake for about 20-22 minutes.
These go well in my house and they are a great alternative to traditional chocolate bars, brownies, boxed snacks and the like because they are without flours and traditional sugars, and while I have no problem with organic flour and sugar, most easy to grab items lack those ingredients. This recipe has the fiber of oatmeal, uses bananas (or applesauce) as a base, and is flexible because gluten free oats can be used and dairy free milk (coconut, almond, soy) can be used as well. Opting for higher quality chocolate never hurts either, as small amounts of chocolate (especially dark chocolate) have antioxidant properties.
I make these in multiple batches, minimum of 2, which yields 34 muffins, and I freeze some to have on hand (leaving them out the night before) which makes this a really grab and go snack!
Enjoy!
Bet + Fam 🙂