Have you ever heard of a maple pie… neither had I!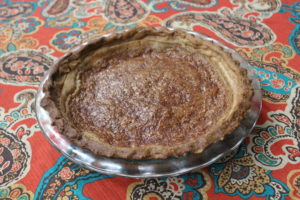 Ok, so as part of our children's home school studies, we wanted to incorporate life skills, like baking, and while learning about Canada, I found this maple pie with walnut crust recipe and thought I would give it a try. Before I go any further, prior to this pie, I had only made one other and it was a pumpkin pie, which was good, making the crust made all the difference! I also should note that up until this pie, I told everyone I didn't really like pie, you know, it was ok… well this pie changed my mind!
This pie is very easy to make, of course you need to like maple syrup, but as most people haven't heard of it, I am sure you will please people when you bring it to holiday meals!
For the crust you will need…
1 1/3 cup flour
1/2 cup walnuts (or pecans)
2 tbsp sugar
1/2 tsp. salt
8 tbsp cold, unsalted butter – sliced
2-3 tbsp. cold water
In a food processor, pulse together flour, nuts, sugar and salt until nuts are finely ground, add sliced, cold butter and pulse until combined. Then with the food processor on, slowly pour in water through feed tube.  The mixture should come together.  If it does not, remove top and stir with fork to move mixture around then put top back on and pulse until it comes together.
Place the dough on a piece of wax or parchment paper adding another to the top. Then push down on the dough to make it more disc shaped. Start rolling it out big enough to fit into your pie dish, allowing for extra to come up the sides. Take top piece of wax or parchment paper off and flip the dough into the pie dish. Maneuver the dough into the dish, roll hanging edge up and under to create crust and crimp as desired.  Using a fork, prick bottom crust to ensure no bubbling occurs.
For the filling you will need…
1 1/4 cups quality, maple syrup
3/4 cup heavy cream
3 large eggs
1/2 cup light brown sugar (packed)
1 tbsp. flour
1/2 tsp salt
2 tbsp. unsalted butter, melted
In a large bowl, combine all ingredients and whisk together to ensure it is well mixed.  Slowly pour into prepared pie crust and place into a 350 degree, preheated oven.  Bake for 40-50 minutes depending on your oven.  Filling should be puffed up and the center will wiggle a little.  Remove from oven and let cool completely.
If you have an nut allergy, just use a different crust! This pie is so yummy! Enjoy!
Bet + fam 🙂