A Simple but Cute Mother's Day Idea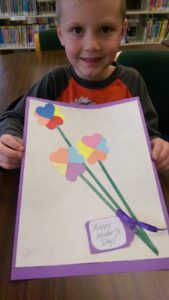 The kids and I visit the library, usually on Tuesdays, and with Mother's Day coming up they had a cute, little craft waiting after story time and the kids were able to make Mother's Day flowers. We love our library and those in children's department, they always have things for the children but this one was too cute not to share, and honestly… Dads, husbands, boyfriends…this one is for you!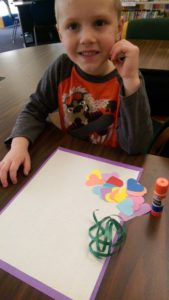 Why you might ask…well any mom would love the thought of her man and/or the father of her children, taking the time to make a craft just for her, with her kids. Remember, it's usually her doing that and while presents are great (I like gifts too) something like this will be a possession that she puts on display.
Getting Started
Various different colored paper cut into the shape of hearts, light paper, colored paper (for background), green ribbon for the stems (yarn or even drawing with green crayon would work) and a glue stick.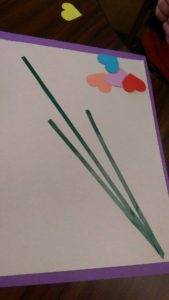 After gathering your supplies and cutting some hearts, you are ready to begin. As you see to the right, my Landen is doing this project, he first glued the ribbons on the lighter paper, he needed a little help with this.
He then started gluing on the hearts in a flower pattern. The librarian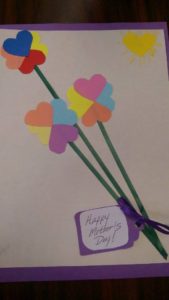 had already cut Happy Mother's Day labels for this project, which Landen used, but this would be a great place to have your child write a little note or even just, I love you.
Landen added a sun to the picture, he was very sure on it but that is what makes these things special, they come from love and have their personality in them. Once the paper was done, he glued it to the background paper and allowed to dry.
There are a number of ways to make this project more personalized, for instance, having a flower per child, using thumb prints (maybe even hand prints) instead of hearts and cutting the paper to fit a frame (8×10), are just a few.
The best part about this is that it is simple and enjoyable for the kids, unlike many other mother's day projects out there and it is perfect for grandmothers and many other situations too!
Don't forget to send this to a guy in your life! I hope you have a wonderful Mother's Day and for a few more ideas, click here.
Bet + fam
Please follow and like us: