Kid Approved Easter Treat!
We all want things to look nice and I really appreciate the time people put into many of the things that I see on places like Pinterest. Of course many of them are so over the top, I mean there are preschool treat bags that took more time, money and effort to create, then many people put into their wedding favors. Personally, I am for things being appealing but on the easier side of things and that is where my easy Easter bark comes in!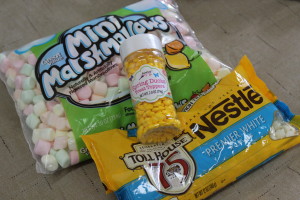 You really couldn't ask for an easier, festive and yummy treat. I did something similar for Halloween one year, see here, and it was a hit, so I thought I would make it again. All you need is chocolate (I used white to go with the spring colors but any chocolate will work), sprinkles of wanted color and design (I decided to make this super last minute and the ducks were all that was left, though they are cute), marshmallows (I used the fruity for the colors, the fruity taste doesn't show up in the end result) and a little oil or grease for your dish.
To make, oil or grease your dish. Melt your chocolate, however, if you are using white chocolate, do not do this on the stove, simply put in a microwavable dish and allow it to melt at short intervals. Next, pour on the marshmallows and sprinkles, lightly press into the melted chocolate. Allow the mixture to cool in the refrigerator until hard and either break apart or use lightly greased cookie cutters to cut shapes from the mixture as shown below.
Simple, easy, and tasty, what more could you ask for? My kids enjoyed this, liked helping pour and use the cookie cutters, and though this doesn't really fall into our normal eating habits, I love these times and treats with my kiddos!
For more Easter ideas click here. Happy Easter and Happy Spring!
Bet + fam 🙂
Please follow and like us: