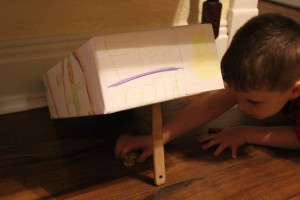 With St. Patrick's Day approaching, my kids wanted to catch a Leprechaun, with a Leprechaun trap. They devised a plan that involved at trap and gold. I had them color regular printer paper with St. Patrick's day themes, including "Free Gold" and we taped them onto a box. Then, my son grabbed a wooden spoon, placed some "gold" under the box, anything sparkly will do and I sent them off to bed.
The next morning we found the trap had been sprung but alas, no Leprechaun, however, he did leave a chocolate gold coin for each child (in the trap) and a note.
We also found a few tricks had been played on us!
We then enjoyed our favorite St. Patty's Day breakfast, left by the Leprechaun, Lucky Charms. So, though the Leprechaun trap didn't catch him this year, the kids really enjoyed trying!
For more craft and recipe ideas for St. Patrick's Day, including a printable letter from a Leprechaun, click here.
May the luck of the Irish be with you!
Bet + fam 🙂