Halloween Treats Perfect For Fall
Well, for better or for worse, Fall is here. I personally love this time of year and I think it's because I missed out on it growing up in Florida, where you have summer, hurricane season and the 3 weeks that it is too cold to wear shorts, but I do love Fall, with its crisp air, the color changes on the tree, the apple cider…there is really so much to love!
To get us in the festive mood, I made a treat for the family, a Festive Fall Bark, which would make a perfect Halloween treat. It is very easy, rich and sure to be a hit, the kiddos can help too!
What you'll need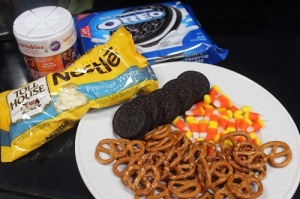 Here is what you will need. I am not one to have Oreos on hand, my kids rarely eat them unless we are at a friend's home and if I do buy cookies it is a brand like Newman's Own, which are organic and are delicious. Oreos are full of things I try to omit from our diet (most of the time), the same could be said with all of the other ingredients shown here, but when you don't plan on making something until last minute, this is what you get, lol!
At the end of the day sugar isn't great for you… I'd rather put organic sugar in my body and leave out other chemicals, but moderation is the key and if a couple times a month you enjoy a less than perfect treat, life will go on!
Now to the good part…
I made my bark in a glass pie dish, it made thicker bark. If you wanted thinner park I would use a smaller cookie sheet, either way before doing anything, line your dish or sheet with wax paper and then coat lightly with butter or coconut oil. After the chocolate is melted you don't have all of the time in the world, especially if using white chocolate, so it best to have your dish ready, prior to beginning.
I used white chocolate, but regular or dark chocolate would work as well. I liked the white to showcase the colors better but darker chocolate would do the same with other candies, it is really a personal preference. The white chocolate does NOT melt well on the stove top. Melt according to instructions in the microwave.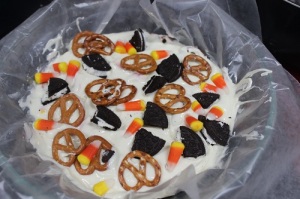 I melted the chocolate in 2 batches. The first I poured into the pie dish. I then added some broken up Oreo cookies, candy corn and pretzels by gently pushing them into the chocolate.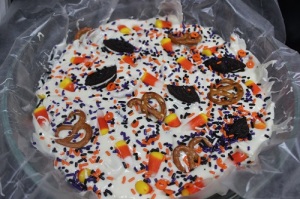 I then melted the second batch of chocolate and poured over the the mixture in the dish. Unlike milk or dark chocolate, you might find the white chocolate needs a little spreading, but it will cover with a little help. Then I again pushed in some more of the ingredients, making sure some were showing, that is what adds the visual interest. I then added some Halloween sprinkles to the top and put the dish into the refrigerator overnight.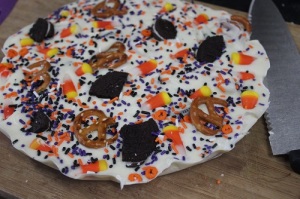 Pull out of the refrigerator and it should easily come out of the dish, as well as the wax paper should just pull off of the bark.
I then cut up the bark into rough pieces or a thinner bark could be broken into pieces.
The finished product is a delicious and visually interesting treat for all, perfect for Halloween, Harvest and Thanksgiving seasons!
I hope this little treat brings you, your loved ones and kiddos joy!
🙂 Bet and fam
PS. This post has some affiliate links, read more about those here.
Please follow and like us: