Fun Craft with Beautiful Results
I learned to make these when I was about 13. I use to make them out of every size, color, pattern and material of ribbon possible. Recently I came across one of my flowers and thought it would be a lovely Mother's Day gift or Valentine's Day gift, among lots of other possibilities (gift bows, hair bows, glued on frames and much more), because a bouquet of these would never die. I would recommend this to be a craft for 8 and up and if you are a guy, what a sweet gift this would be for your wife!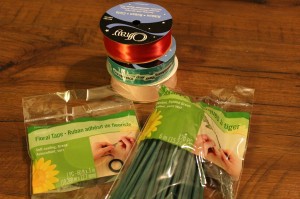 These are your supplies, I got mine at Walmart, all in the craft isle, and you don't need 3 different types of ribbon, I got them to show how the roses will look different with different colors and textures. Here I have a satin red, a sheer teal and a thicker, textured pink ribbon, but you can get whatever will work for you.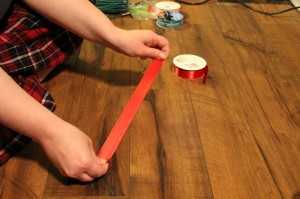 Cut a piece of ribbon. There is no set length. The longer the ribbon, the fuller the rose and the shorter ribbons will result in a rosebud, both are great, you don't want everything to be the same.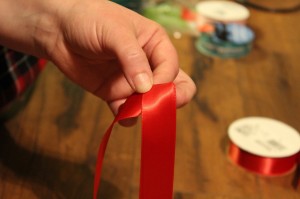 Find the center of the ribbon and make a 90 degree fold. Fold the bottom adjacent ribbon over the 90 degree fold and keep doing until you have this…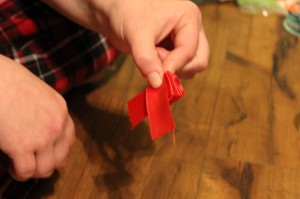 Next, grab by the 2 ends and let go like this…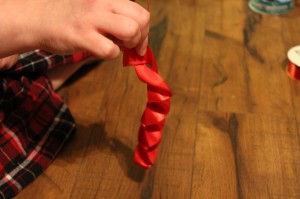 Grab ends between thumb and forefinger. Hold one end tight and pull other until…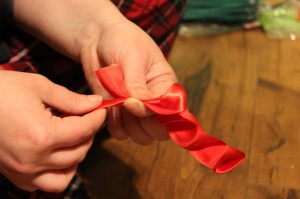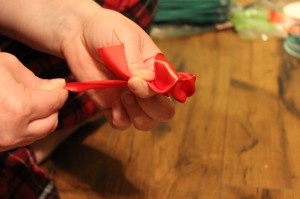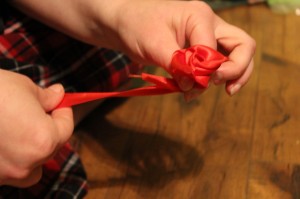 …you now have a flower. Next grab one of the stem holders and wrap the handy wires around the base of the rose quite tightly, like so…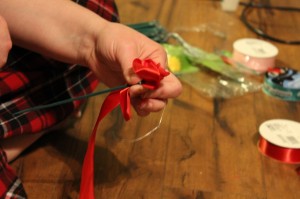 Cut the ends of the ribbons close to the flower but not all the way off. Take florists tape and start covering wire and excess ribbon.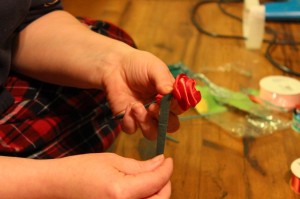 You need to cover the ends of the ribbon and I would recommend doing the entire wire. Also, you will want to wrap the florist's tape diagonally and you will find it isn't as sticky as regular tape, so at the ends you could put a tiny dab of glue or a piece of clear tape to ensure staying.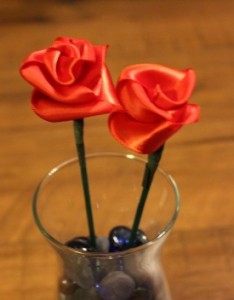 Put your flower in a vase with some rocks or beads and then make more! I got the vase and glass beads for $3 at Walmart, so total for all supplies including vase and beads, I spent about $10 and that is without shopping bargain ribbons. Also, you could use a half pint mason jar and save money there too.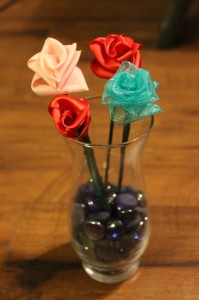 As I said, the roses work on all types of ribbon and could match any décor. These could work for men too, think plaid for Dad or his team colors. What a touching sentiment for someone you love in the colors of their wedding, for an anniversary gift or of course just a vase full of classic red is a safe bet, the sky's the limit!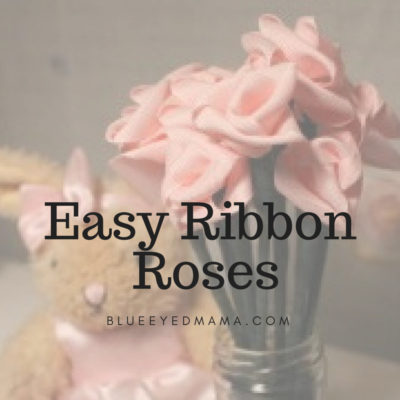 Here is the addition of a pink rose and a vase full of pink roses that I made for my daughter's room. I hope you have fun making these and that they bring a smile to someone.
🙂 Bet and Fam
Please follow and like us: